The solicitors' profession is represented only at arm's length on a new body set up to advise the judiciary of England and Wales on developments in artificial intelligence (AI).
Orlando Conetta, head of innovation at international firm Pinsent Masons, is one of 10 members of the AI advisory group, chaired by Professor Richard Susskind. Although Conetta is one of the country's leading experts in legal sector technology, he is not a solicitor.
Judges dominate the group with four senior judicial members: Lord Neuberger, past president of the Supreme Court; Sir Geoffrey Vos, chancellor of the High Court; Lady Justice Sharp, vice-president of the Queen's Bench Division; and Mr Justice Birss, supervising judge for the Midland, Wales and Western Circuits.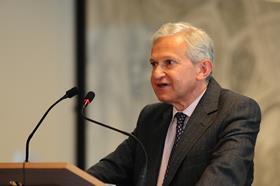 The bar is represented by Matthew Lavy of 4 Pump Court and former barrister Kay Firth-Butterfield, head of AI and machine learning at the World Economic Forum.
John Sorabji, principal legal adviser to the lord chief justice, will also sit on the group.
However, the group also includes a leading academic expert, Professor Katie Atkinson of the University of Liverpool.
Announcing the formation of the group last week, the lord chief justice, Lord Burnett of Maldon, said: 'It is vital that a modern judiciary gives systematic thought to the long-term. AI is clearly one of the most important technologies of our day. So far, however, here and around the world, insufficient attention has been paid by judges to its impact on the work of the courts. Our new group should remedy this gap.'
Meanwhile, the Law Society's public policy commission on algorithms in the justice system revealed that it will report on its year-long investigation on 4 June.
l International firms DLA Piper and Herbert Smith Freehills are among participants in a project to overcome lawyers' resistance to AI by implementing it in so-called 'micro-services'.
The two-year project, led by online deal platform Legatics, has been awarded £173,318 under the government's next-generation services research programme. It will develop AI to automate tasks such as tagging signatures which can be built into existing workflow software.
'Lawyers won't necessarily know they're using AI,' Anthony Seale, Legatics founder and chief executive, said.