The Solicitors Regulation Authority may increase the scope of price transparency rules if firms are thought to be undermining their spirit.
That was the prediction today of Iain Miller, regulatory partner at London firm Kingsley Napley, who said there had been limited responses from firms to new requirements which came into force in December.
Miller said most firms have complied with their obligations, but they have done little more than the bare minimum. Such reluctance to embrace the drivers behind the rule change could persuade regulators to intervene once again.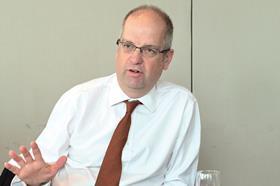 'It is fair to say it has almost restored my faith in the legal profession in its ability to comply but not comply at the same time,' Miller told the Law Society's annual risk and compliance conference in London. '[Prices] are there and as far as I'm concerned they are prominent but it is not really going with the spirit of somehow changing the way we operate.
'The major concern was that people wanted to sit in the middle of the piece – they didn't want to be the outlier that the SRA might look at.
'All just wanted to be doing what everybody else did and you all ended up in the same place. Many of us might think that is a box ticked but I suspect it is going to lead to more being done.'
Miller cited the example of one unnamed firm, which stated on its website a piece of work would cost between £50,000 and £1.5m, as one of many cases where information could be unhelpful, albeit compliant.
The new rules apply to conveyancing (residential), probate (uncontested), motoring offences (summary offences), immigration (excluding asylum), employment tribunals (unfair or wrongful dismissal), debt recovery and licensing applications.
Price information, the SRA says, must be presented in a 'clear and easy to understand format', providing a total cost or, if this is not possible, an average or range of costs. There must also be information on the people who will be handling each legal matter.
Miller said it is very likely the regulator will extend price transparency requirements to more areas of legal service, as well as potentially being more prescriptive about what should appear on each website.
The SRA is now sweeping 500 law firm websites to check for compliance, and Miller expects a number of agreed outcomes to be finalised in the coming months as regulators start enforcement measures.
He added: 'If they do feel they have to try and get [solicitors] out of their reluctance to do this, they might try and nudge by being more aggressive in terms of enforcement.'