England and Wales will continue to flourish as a global legal centre of choice for dispute resolution despite fierce competition, the president of the Law Society has told a global gathering of professionals.
Giving a keynote address at London International Disputes Week, I. Stephanie Boyce said competition to be the forum of choice for the resolution of legal disputes had been fierce for several years, with Brexit adding 'further complexity'. However, she identified 'absolute certainties' that made England and Wales a successful jurisdiction.
As well as English remaining the international language for business, Boyce said the benefits of choosing English law have remained unchanged.
'Based on the principle of freedom of contract, English law allows businesses and individuals to tailor bespoke agreements to fit their specific needs, offering commercial flexibility. Based on the doctrine of precedent, English law also helps commercial parties predict an outcome of a legal dispute with a greater level of certainty. English law is very stable, stretching back hundreds of years and based on well-established principles. English law is transparent, with parties not having to worry that local courts will fetter their ability to exercise contractual rights.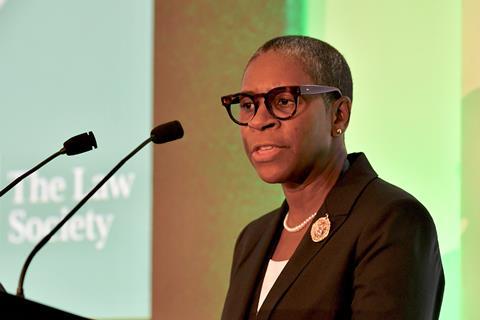 'Our common law is familiar to the English-speaking nations around the world, from the United States to India, Canada to Hong Kong, Australia to Singapore. It is familiar to those from civil jurisdictions who have used it in their contracts and know it works. English law can also arguably evolve more quickly than statute-based law.'
Boyce praised the judiciary and pointed out that their judgments 'are often highly persuasive in courts in other jurisdictions'.
The court system 'strikes a balance between ensuring key evidence is available and avoiding disproportionate cost, filters out unmeritorious and weak claims, and allows evidence from foreign jurisdictions in the form of witnesses - or in some cases, documents'.
The president also praised the legal profession, which was strengthened by the presence of foreign lawyers and law firms.
London was often chosen as the seat for arbitration for disputes between parties of different nationalities 'because it is perceived as a neutral and unbiased forum for these disputes to be heard'.
The capital's commitment to diversity and inclusion was another appealing factor. However, Boyce said: 'We cannot claim that our legal system is the best it can be when we know that many talented people from non-traditional backgrounds are unable to join or advance within the professions.'
Chancery Lane is working to understand the different experiences of members and understand how it can remove any barriers. 'It is my mission to leave the profession more diverse and inclusive than the one I entered. We solicitors need to reflect the society we serve,' Boyce told the conference.
This article is now closed for comment.