Austerity Britain has presented lawyers willing to provide pro bono legal advice with severe challenges in accommodating unmet need. As National Pro Bono Week approaches, this is the subject of the Gazette's latest roundtable discussion.
The backdrop to the Gazette's roundtable discussion on the provision of pro bono legal advice is far from positive. The group around the table is talking six months into severe legal aid cuts that have taken many areas of civil legal aid out of scope, and several years into a period of private and public sector austerity that has fed demand for pro bono legal advice – for both individuals and not-for-profit organisations.
Cuts to Citizens Advice bureaux and law centres have further complicated the task of signposting the help available to those in need.
Step forward, one would hope, the 'Big Society'. And it is hard to imagine a better notional example of the Big Society than pro bono legal advice – professionals unwilling to watch people in need go unadvised, taking time out from fee-earning time to help.
From the smallest to the largest firms and legal departments, lawyers can hardly be accused of failing to redouble their efforts.
Yasmin Waljee, international pro bono manager at Hogan Lovells, was the first pro bono manager to be appointed in the City. In 15 years she has seen the firm's contribution rise from around 300 hours a year to 104,000 hours globally, involving 40% of the firm's lawyers. They work on core areas of access to justice, international development, social enterprise and social financing.
At union firm OH Parsons, family solicitor Ashleigh Spencer notes that all lawyers are expected to do some pro bono work, in part through a legal advice line that is available to both union members and their families.
Paul Yates, head of pro bono at Freshfields Bruckhaus Deringer, was able to count 43,000 hours contributed globally last year, half from the London office on 431 matters for 253 clients. Those clients were supported through advice on access to justice, human rights and global poverty.
Tom Dunn, pro bono director at Clifford Chance, recorded 55,000 hours globally for the firm – 28,000 hours in London – supporting access to justice, social finance and education projects.
Not included within such official counts are the many hundreds of thousands of hours of advice provided by small practices which use their knowledge of the local community to identify unmet legal need, rather than taking cases identified by a pro bono clearing house or legal advice centre. As Spencer puts it: 'In the south Wales valleys where I trained and first worked, communities are small and very tight, and where firms see the need they would help people for free – though for various reasons they don't talk about it.'
Of course, all are keen to stress that 'inputs' do not equal effectiveness, but they are at least an indication of the scale of commitment to pro bono advice.
The story of pro bono advice in 2013 is not, though, a simple one of increased effort to fill a void left by the closing of law centres and the removal of legal aid. This affects the stage and the character of approaches for pro bono advice that all present receive from individuals. 'Many people come to us these days having been to half a dozen places previously,' Rebecca Hilsenrath, chief executive of LawWorks, notes. 'They are confused, angry and upset, and often there is little that can be done for them.'
Others may still be entitled to legal aid that could have resolved their issue at an earlier stage, but with advice centres cut back, they may not be aware of this. 'Take-up of legal aid is less than it is meant to be,' Hilsenrath points out.
Also affecting the ability to 'step in' is the range of competencies of lawyers willing to advice clients pro bono. Family cases offer a particular challenge, with parties commonly going unrepresented. Maura McGowan QC, chairman of the Bar Council, says: 'One judge tells us she sat in the court of appeal for two weeks without a single lawyer in front of her. It's not hard to imagine what the situation is like two tiers below that.'
Provision has been reduced by the deteriorating position of funding for other practice, McGowan adds, pointing to 'big legal aid firms, the strength of whose criminal legal aid practices was such that they were able to carry quite a lot of family work'. With financial pressures increased on the criminal practice, many such firms have closed their family departments, she adds.
Rebecca Scott, senior solicitor at the RCJ Advice Bureau, notes that once the limited resources for pro bono family advice are used up, there is simply nowhere to refer most individuals. 'A lot of family cases are accepted as suitable for pro bono advice, but then can't be placed,' she adds.
Kate Walmsley, corporate responsibility specialist at the Law Society, makes the point: 'The pro bono community has always been quite clear in pointing out the dependence pro bono advice has on legal aid funding. It is not just a question of pro bono advice filling the gap.'
Austerity has also affected employment law, where the 'competent' resource is larger. 'The standout need is employment law,' Hilsenrath says. 'City and commercial law firms have employment departments, and assistance with employment problems can make other related legal needs – advice on housing law, for example – fall away if employment problems can be resolved successfully.'
More austere times have also damaged the ability of hard-pressed organisations to use pro bono advice in strategic ways. Waljee explains one scenario. 'In the "old days",' she recalls, 'you could work with a charity in a strategic way, because the charity also had more time to invest in strategic work. A disability charity could look at trends in disability living allowance tribunal judgments and use that knowledge to decide to litigate to judicial review level. Your partnership with them could be longer. Now many don't have the time for that – they are just responding rather than aiming for a systematic change.'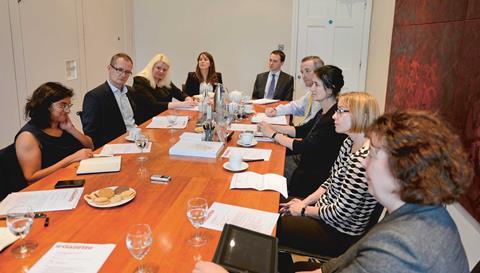 At the table
Yasmin Waljee, Hogan Lovells; Tom Dunn, Clifford Chance; Ashleigh Spencer, OH Parsons; Kate Walmsley, Law Society; Paul Yates, Freshfields Bruckhaus Deringer; Robert Bourns, TLT Solicitors; Rebecca Hilsenrath, LawWorks; Rebecca Scott, RCJ Advice Bureau; Maura McGowan QC, Bar Council
A responsive, or reactive, non-strategic approach seems to extend to the legal system's ability to capture the scale and character of unmet legal need. By way of example, Yates points to the operation of the Ministry of Justice's telephone 'gateway' – now the first point of contact for many individuals seeking legal aid funding. 'The gateway is a key piece of "infrastructure",' he points out. 'But how well monitored is it? When people phone it and find they don't qualify for legal aid, do they just disappear into the ether? As a profession, we need to know what happens to them in order to have a more substantial conversation about unmet legal need.'
Attendees agree that the pro bono advice available is, in Hilsenrath's words, 'at capacity'. Despite the challenges of doing so, she urges, there needs to be a more strategic approach to providing pro bono legal advice – including a degree of targeting.
Part of that debate involves answering questions about the 'effectiveness' of pro bono advice. Dunn is 'sceptical' about the possibility of measuring outcomes from pro bono advice. The advice of a lawyer for an individual involved in litigation will be positive, he suggests. 'There will be a better impact for the individual than if you don't intervene,' he says. 'We should be looking at the quality of the advice, not the outcome.'
For example, some representation, he notes, involves asylum support. 'If your advice is there to provide access to justice, then the success rate is 100%.' It depends on the aim, he explains. 'The outcome at tribunal is better for represented individuals, but your aim may actually be to ensure humane treatment.'
Advice to charities may be more straightforward, he notes. A charity that cannot afford legal fees may be able to do something it could not otherwise have done, such as carry out work more efficiently. Litigation may also be seeking a strategic impact – effecting a 'wider systemic change'.
However, all are cautious about seeing pro bono work in terms of simple outcomes. As McGowan notes: 'If both mum and dad are represented pro bono in a family case, one side can be said to "lose".' She points to her own experience of working pro bono on capital and life cases from the Caribbean: 'Having not got a case before the Privy Council, by that measure I have no impact, other than the satisfaction that someone has looked at the case.'
On community projects, Yates says, an assessment has to be made on a project by project basis regarding what a positive outcome looks like – which is important to relate from an internal management standpoint.
Why do it?
The group around the table gives the impression that pro bono work is simply something a lawyer does in the normal run of affairs. But what is the underlying motivation? Robert Bourns, a Law Society council member and senior partner of TLT Solicitors, says: 'It's not just a [professional] obligation, there is real enthusiasm for pro bono. As senior partner, I meet with our new recruits every fortnight and they absolutely expect that they will do pro bono work, that the firm will, and that the firm will support them in doing pro bono work.'
'People at the firm want to do this,' Yates adds. 'And it's hard to think of another profession whose members are as committed to pro bono work as lawyers are.' While some present agree that it would be 'damaging' to their firm's reputation if it were to cease its commitment to pro bono work, they insist that there is not a commercial motivation.
'I'm not sure a firm that didn't do pro bono would necessarily be less successful commercially,' Bourns explains. 'But it would be a very different kind of law firm, and I'm not sure it would be as happy a place to work.'
'We in the UK do not see this as providing commercial advantage,' McGowan adds. The limit of the business dimension, Dunn adds, is that if clients want to instruct 'corporately responsible firms', then the client may want to see evidence of the firm's pro bono commitment. But, he adds, if the commitment were deployed cynically, 'lawyers at the coal face would be annoyed'.
Walmsley points to Law Society research conducted among its members. 'Individual lawyers enjoy pro bono work and want to help people,' she says. 'And once they have done pro bono work, they will do it quite regularly.'
The future
Looking ahead, Waljee notes a significant limit on what pro bono can deliver for clients in litigation. 'Our lawyers in the US handle some big pieces of litigation pro bono. But our costs rules make it harder to do that here – it is always at the back of your mind that an adverse ruling could
risk so much for a client. The costs rules are problematic; more so now that legal aid is unavailable for so many cases.'
To unlock further support in some cases, the issue of client conflict needs to be addressed, others note. Too often, Hilsenrath says, there is an overly strict interpretation of client conflict – in part coming from commercial clients whose requirements may be interpreted as extending to a firm's solicitors advising an employee who attends an advice clinic where the solicitor volunteers. 'It's a huge stumbling block,' she adds. McGowan and others confirm that important conversations could be had with clients to resolve perceived conflicts.
Scott predicts that technology will increasingly assist with meeting unmet legal needs. 'We will see online tools more commonly deployed that help individuals self-support on part of what they need, and also assist with triaging cases.'
Dunn predicts an increase in advice to non-governmental organisations – an effective way to assist more people through helping the organisation they depend on. 'Continuing professionalisation' is Yates' expectation, meaning an enhanced ability to identify unmet need, and to match it to appropriate pro bono legal advice.
Of significant help, all agree, would be any initiative by the profession's representative bodies to publicise the range and scale of pro bono work undertaken by lawyers ('anonymous PR' as one calls it). And as another attendee concludes: 'The amount lawyers do would surprise, I think, readers of the Daily Mail, who assume that all lawyers are fat cats with their noses in the trough.'
Whereas, Bourns ends: 'Asked why we do pro bono work, the answer is simply that we have always done pro bono.'
National Pro Bono Week 2013 runs from 4 November. For more information on events and how to support pro bono work, see LawWorks and the Bar Pro Bono Unit site.
Eduardo Reyes is Gazette features editor