Tributes have flooded in for law centre solicitor Nathaniel (Nat) Mathews, described as a 'true hero of social housing', who has died after a short illness. Hackney Community Law Centre revealed the sad news this morning.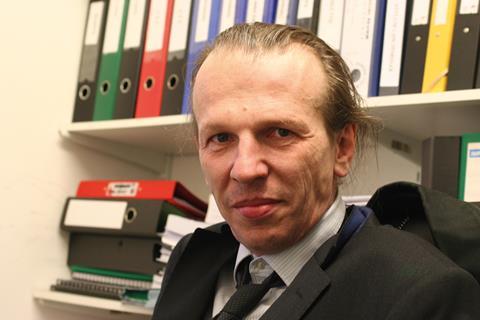 Ian Rathbone, chair of the law centre, said: 'We will miss Nat so much, he was such a shining star of our team – I have worked with him for more than 25 years – but you know, his legacy lives on with the literally hundreds of lawyers who have worked with him and been trained and supervised by him, with a different view of what justice should be to some in the legal profession, and that all people regardless should have access to justice. He had a commitment to those who are poor and vulnerable, showing that there are other more friendly and accessible ways of carrying out legal service.'
NATHANIEL MATHEWS

HCLC is devastated to share that our brilliant, kind, compassionate & beautiful Solicitor Nathaniel Mathews has passed away.

We will keep everyone informed about plans to celebrate Nat's life.

Please find a tribute to Nat here: https://t.co/hqaEYQN7KB pic.twitter.com/oTr68lBjz9

— Hackney Law Centre (@HackneyLawCentr) April 13, 2022
Nathaniel, a housing specialist, joined Hackney Community Law Centre (HCLC) in 1994. 'As a tenacious housing lawyer operating in Hackney and beyond, Nat fought for and articulated on behalf of the many homeless and most vulnerable residents and families who relied on the law centre,' HCLC said.
Nathaniel featured in the Gazette's 'Lawyer in the News' section in June 2020 after successfully arguing in the Court of Appeal that a suspension on all housing possession proceedings due to Covid-19 included appeals.
Law centre manager Sean Canning said: 'He was knowledgeable, always kept up with current practice and was influential in the wider law centres network and movement. He kept the law centre going at times when others were faltering for various reasons. He was tenacious in his pursuit of justice and would spend many hours outside the daily hours working on cases.

'He was an inspiration to the many generations of young lawyers who volunteered and worked at Hackney Community Law Centre, the "go-to person" with any legal problem. He encouraged them on, gave them confidence, valued them for who they were.'
The law centre announced the news on social media, prompting a flood of tributes. Hackney Community Law Centre's Jeremy Ogilvie-Harris paid tribute to a 'colleague, mentor and friend'. He said:
Nat was one of the greatest. He was kind, understanding and would do his utmost best to help those in need. He was a true hero of social housing. He was also a colleague, mentor and friend. The world won't be the same without him. We will miss you, Nat https://t.co/rSBUdJqtiV

— Jeremy Ogilvie-Harris (@JOgilvieHarris) April 13, 2022
Harrow Law Centre said:
We are so sad to hear that Nat has passed away. He made things better for so many. A devastating loss to the Law Centre family. Our deepest sympathy to Nat's family and friends and to all at @HackneyLawCentr. He will be missed. https://t.co/NW7PMPmnmx

— Harrow Law Centre (@HarrowLawCentre) April 13, 2022
Derek Bernardi, a senior solicitor-advocate at Camden Law Centre, said:
Such tragic news. Nat was a legal aid lawyer of the highest calibre. He truly dedicated his life to the cause. My thoughts go out to his family, friends, and colleagues. https://t.co/4z6DPzQ99X

— Derek Bernardi (@DSBernardi) April 13, 2022
Suffolk Law Centre solicitor Audrey Ludwig said:
I am really sad to hear this news. Natt was such a good and brilliant housing lawyer. He & everyone at @HackneyLawCentr were so kind when they helped @SuffolkLawCen set up the housing team. His legacy is so many ordinary people rescued from eviction, homelessness and disrepair https://t.co/CPuooI8zbZ

— Audrey Ludwig (@AudreySuffolk) April 13, 2022