A north west firm has appointed its first in-house barrister after she successfully completed her pupillage.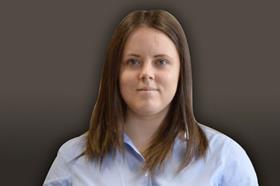 Catherine Dent becomes the first beneficiary of the partnership between industrial disease specialist Roberts Jackson and St John's Buildings.
The fast-growing firm started the pupillage in October 2015 with a view to enhancing the claims process experienced by clients, particularly those who need their cases resolved quicker.
Dent's pupil supervisor for the 12-month qualification period was St John's Building's barrister Philip Grundy. She assisted Grundy and undertook work on his behalf during the first six months, then took on her own work in the second half of the training period.
Roberts Jackson chief executive Karen Jackson said Dent will bring a new and valuable skillset to the solicitors' practice.
'Having in-house counsel will allow for speedy communication and early preparation in cases, which is a great benefit to our clients,' she said.
'The pupillage is the latest in a series of new roles aimed at making the most of the multitude of abilities within the firm. We offer a wide variety of roles to suit everyone's talents and this is just another route employees can take.'
Roberts Jackson, which won the medium-sized law firm of the year at this year's Manchester Legal Awards, has grown from four people in 2009 to more than 200 today.
In 2014, the firm was one of the first to take advantage of opportunities through the Legal Services Act to attract a £15m cash injection from a private equity firm. It posted a £2.5m turnover in 2012 and is expecting to record £12.5m income for the 2016/17 financial year.
The firm is not the first to bring barristers in-house. In 2014, national firm Cartwright King announced the appointment of a dedicated chief clerk and head of chambers as part of the first 'in-house' barristers chambers.
Meanwhile, north west firm Express Solicitors has appointed Nyssa Crorie as its first in-house barrister.
Crorie, who worked for six years for DWF in the in-house advocacy department, will work across all teams including road traffic accidents, clinical negligence, serious injuries and occupiers' and public liability.
James Maxey, managing partner at Express Solicitors, said: 'An in-house barrister will provide a cost-effective way of offering expert advocacy that can win cases.'