A 190-year old Bristol firm was set to disappear this week after being bought through a pre-pack administration. Multi-service firm Burroughs Day called in administrators yesterday after failing to secure extra finances needed to preserve the business.
Insolvency specialists Quantuma negotiated the sale of Burroughs Day's assets to Bristol firm Metcalfes Solicitors, with 79 jobs saved as a result.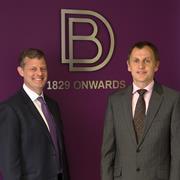 Quantuma partner Andrew Hosking said: 'Despite being a strong mixed-practice firm with a long history, a combination of declining turnover and a rising cost base has eroded profitability such that the current business was not viable without significant additional working capital.'
Burroughs Day can trace its history back to 1829 when its founder opened a Bristol office. It also operated from a Somerset office in Portishead and posted a £4.2m turnover for the 2016/17 year ending 31 April.
The firm was one of the key drivers in the QualitySolicitors network before announcing last May that it wanted to cut ties and trade as an LLP under a new logo, saying it wanted to 'build on its own long-established, excellent reputation in the West Country'.
Metcalfes Solicitors has confirmed that the new business will have more than 100 employees and partners, with the largest areas of activity continuing to be property, personal injury, clinical negligence, private client, family and dispute resolution.
The expanded firm, which will continue to trade as Metcalfes Solicitors, allows for 'significant' economies of scale and a more efficient and cost-effective service, the firm said.
Anthony Heath, Metcalfes managing partner, said 'We are looking forward to working with our new colleagues, and I am confident that the enlarged business can be developed into a significant law firm in the Bristol legal and business community.'
National firm Ashfords LLP has provided administrators with regulatory guidance and support to ensure clients' interests are protected, with Samantha Palmer and Crispin Jones appointed as joint solicitor managers. Palmer said: 'We are pleased to be able to confirm that all client protections are in place and all client monies are safely being transferred with client instructions to the newly merged firm to ensure that all client interests continue to be protected.'
The administration is the latest to be handled by Quantuma and Ashfords, with appointments in the last six months including LA Law, Gregsons Solicitors, Sovereign Solicitors and Almond Solicitors.