This year's Conservative Party Conference was a hybrid affair, which might explain why there were far fewer people than in previous years. Nonetheless, there was plenty of drama.
First up was a fringe event on Covid passports. Despite a heckler amongst the largely mask-less crowd, guests managed to watch backbench MP David Davis's blistering attack on the government's attempt to introduce Covid vaccination passports largely uninterrupted. His opening speech was followed by a panel discussion chaired by talkRADIO host Julia Hartley-Brewer, who made it clear early on that she wasn't going to tolerate any disruption. However, one audience member clearly had enough of the heckler's mobile phone going off again, getting up from his seat to physically chuck him out of the room.
According to the conference agenda, the lord chancellor and justice secretary was due to appear at a fringe event organised by the Conservative Animal Welfare Foundation. So off I headed to the Midland Hotel where, after an hour on my feet, a tie-less Dominic Raab finally rocked up to say a few words. Host Andrea Jenkyns MP was hoping to get a photo of all the speakers together at the end, but unfortunately Raab had left. He was clearly in a rush to get to another event, racing down the stairs but stopping halfway to put on a tie. One guest tried to take a photo but was stopped by security.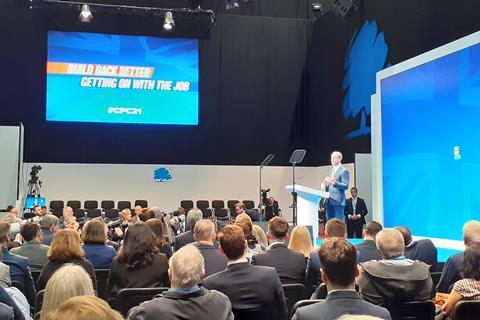 No doubt Raab didn't stay up too late, given he was delivering his conference speech the following morning. MPs have openly said justice isn't a vote-winner – which might explain how easy it was for me to get into the main event and bag a seat with a perfect view. There were a few polite applauses during his speech, but the biggest one came after he declared that the Human Rights Act would be overhauled during this parliament – a surprising announcement given he hasn't yet received the Independent Human Rights Act Review's recommendations.
Shortly afterwards he sat down with The Spectator editor Fraser Nelson for his first live interview since taking over the justice brief. For £5, guests could enjoy a guaranteed seat and a G&T. 11am was far too early for me to be drinking alcohol. I was prepared for the possibility I might have to stand at the back of the room, but ended up managing to bag a seat at the front.
I also wanted a clear head to listen to Raab's predecessor Robert Buckland talk about parliamentary sovereignty, statutory interpretation and the courts, which was due to take place shortly afterwards. Now a backbench MP, I was hoping Buckland would spill the beans on what the government really thinks about judicial review. Sadly, the event was postponed. I could have had that G&T after all.
More Raab later in the day, when he appeared at an event hosted by the Society of Conservative Lawyers, Law Society and Bar Council, keen to stress that he is 'pro human rights and pro judge'. But that wasn't enough to keep him out of the headlines the following morning - albeit for a different reason.
The final day of conference ended, of course, with Boris Johnson's speech, which focused on the government's 'levelling up' agenda. A shame he didn't attend the fringe event on the important role that legal services and the justice system can play in 'levelling up', as it might have made him think twice about making digs at the legal profession.


Reporter