'The campaign is over and the work begins,' declared Boris Johnson yesterday, after beating entrepreneur Jeremy Hunt to become leader of the Conservative party. That work begins with deciding who will serve in his cabinet.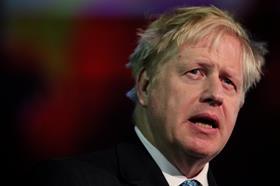 There has been a frenzy of speculation over the past 24 hours over who will get the top ministerial jobs. Former international development secretary Priti Patel is apparently set for a comeback, possibly as home secretary. Sajid Javid is widely tipped to become chancellor, environment secretary Michael Gove is in line for a big promotion, and Hunt may or may not stick around as foreign secretary after reportedly turning down defence.
All juicy stuff - but what I've found sad is the lack of gossip about who will take on the justice brief. Speculation about who would carry the red briefcase began long before Philip Hammond confirmed on the BBC's The Andrew Marr Show last weekend that he will quit as chancellor of the exchequer before Theresa May heads to Buckingham Palace to hand in her resignation letter to the Queen.
But there's been little, if any, speculation about the lord chancellorship - despite David Gauke all but shouting from the rooftops for weeks that he would resign as lord chancellor and justice secretary before Johnson got the opportunity to sack him.
I came across one article this morning that said Johnson 'is expected to make swift appointments to the four great offices of state - chancellor, home secretary, foreign secretary and defence secretary'. Why is lord chancellor, who gets to enjoy the pomp and ceremony of being sworn in at the Royal Courts of Justice by the country's top judges, not on that list?
The legal services sector is worth £24bn to the UK economy every year and, according to the government, 'is at the heart of the UK's future as a global, outward-looking, free-trading Britain'.
Legal services are GREAT, the government declared last year. Whoever is fortunate enough to become the next lord chancellor and justice secretary should remember that when they're gutted they didn't get one of the 'top four' jobs.
Update: Shortly after 9pm on Wedneday 24 July, Downing Street announced that barrister Robert Buckland QC MP had been appointed as lord chancellor and justice secretary.


Reporter