On Saturday I travelled to west London to see if there was any help I could offer following last week's devasting fire at Grenfell Tower. Having seen live footage of the 24-storey block on TV, I knew my visit would be tough. But nothing could prepare me for seeing Grenfell Tower with my own eyes.
Walking past dozens of posters of missing residents, seeing loved ones sobbing on the street... I can't even begin to imagine what those affected by the fire are going through right now. It breaks my heart.
I arrived at a church community centre to be told my help wasn't needed at that moment in time because of the large number of volunteers already there. That moment, for me, represented the only positive thing that has come out of this tragedy - people coming together to help in any way they can. Those people, you'll know by now, include several members of the legal community.
Among the posters covering the centre's railings was one from BPP Pro Bono Centre offering free employment advice for those affected by the fire who or a family member might be injured, or who might need time off to care for someone.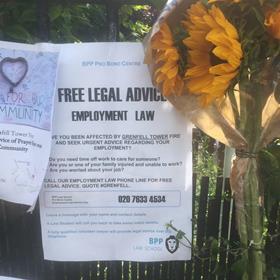 Later that day, as I walked through Portobello market, several shop windows had a poster notifying people of a legal information meeting at a local mosque that evening for evacuees and responders.
Lawyers and specialist housing advisers from Shelter and the Housing Law Practitioners Association are working with North Kensington Law Centre to run free daily drop-in advice clinics, starting today.
The law centre has been handing out information leaflets to residents affected by the fire. It is also trying to raise £100,000 to help victims get access to justice and legal support, and has raised £20,000 so far.
The Grenfell Tower fire is not the first tragedy in recent weeks that has prompted the legal community to immediately mobilise. Hundreds of solicitor firms, barrister chambers, students and legal executives have offered to provide pro bono advice to those affected by the terror attacks in Manchester Arena and London Bridge.
In an age where so many people are, for instance, often preoccupied on their smartphones, it's easy to feel like any sense of community spirit has been swiped away. But solicitors' response to recent tragedies is one example of community spirit at its best.
Victims will be trying to make sense of what has happened and what happens next, they will need all the support they can get. The legal community's support won't be able to take their pain away, but it will help them to receive the access to justice they deserve. Thank you.