Two male Scottish lawyers will be at the helm of the Supreme Court in the runup to any confrontation with Boris Johnson's government over the UK top court's constitutional role, it emerged today. The court announced that the Right Hon Lord Hodge, 66, has been appointed deputy president, succeeding fellow Scot the Right Hon Lord Reed, who was sworn in as president on 13 January.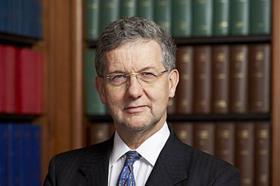 Technically, judicial appointments are made by Her Majesty the Queen, on the advice of the prime minister and lord chancellor, following the recommendation of an independent panel. Lord Briggs and Lord Lloyd-Jones had previously been tipped for the deputyship. Lord Hodge will be sworn in on a date to be announced, the Supreme Court said.
Patrick Stewart Hodge was educated at an independent school in Pitlochry and Cambridge and Edinburgh universities. He worked in the Scottish Office before being admitted to the Faculty of Advocates in 1983 and took silk in 1996. From 1997-2003, he was a part time Scottish law commissioner. Before his appointment to the Supreme Court, in April 2013, Lord Hodge was the Scottish judge in exchequer causes and one of the Scottish intellectual property judges. He was also a judge in the Lands Valuation Appeal Court.
Lord Hodge was one of the 11 Supreme Court justices who ruled in the landmark Miller 2 judgment last September. He did not sit in the 2017 Unison case. In a speech last October, he defended the flexibility of judge-made law.
Welcoming the appontment, Lord Reed said of his colleague: 'His previous experience of judicial administration will stand him in good stead as our deputy president. I am looking forward very much to working with him in his new role.'
The future of the Supreme Court is likely to be one item on the agenda of the 'Constitution, democracy and rights commission' announced in this month's Queen's speech. Any perception of compromise to judicial independence is likely to be controversial in Scotland, where the UK Supreme Court is the highest court of appeal in civil cases.