The government has been urged to extend a ban on evictions following last night's announcement that England would enter national lockdown today.
At present, no eviction notices can be served until 11 January after a statutory instrument was laid in November restricting the enforcement of evictions in England. The 'most egregious' cases, such as anti-social behaviour, perpetrators of domestic abuse in social housing, and extreme rent arrears (equivalent to nine months' rent discounting arrears accrued since 23 March) are exempt.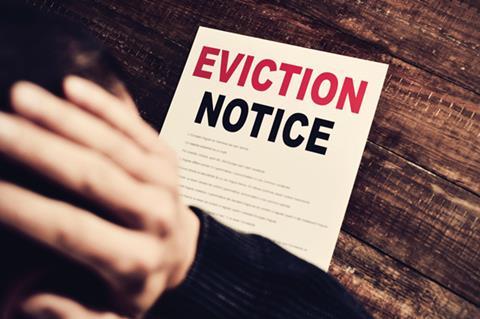 Last night prime minister Boris Johnson announced England would enter another national lockdown starting today, following a rapid rise in coronavirus infections, hospital admissions and case rates across the country.
Housing specialist Giles Peaker, a partner at Anthony Gold Solicitors in London, said: 'As the current prevention of evictions expires on 11 January, urgent steps are needed to address the immediate problem. While the previous regulations allowed eviction for "serious rent arrears" and anti-social behaviour in Tier 2 and Tier 3 areas, there is also the serious question for the government of whether there should be any exceptions to a further stay of evictions during a full lockdown, and if so, for what.'
The Housing Law Practitioners Association said it has been absolutely clear that nobody should be losing their home at the current time and no one should be out on the streets.
'The government must now act to extend the moratorium on evictions beyond 11 January, put the "everyone in" policy on a formal footing so that councils are obliged to accommodate everyone at risk of rough sleeping including those with no recourse to public funds, and put in place meaningful protections for renters,' the association added.
A government spokesperson said: 'We are reviewing the measures currently in place and will provide more detail shortly, taking into account public health advice.'