The lord chancellor has revealed the potential timetable for unveiling anticipated judicial review and human rights reforms.
Robert Buckland QC told the Commons public administration and constitutional affairs committee yesterday that the Independent Review of Administrative Law, which is being led by former Tory justice minister Lord Faulks, is expected to report 'within the next couple of months'. Any proposals will emerge in the spring.
The Human Rights Act review, which is being led by former senior presiding judge Sir Peter Gross, was announced on Monday. Buckland said he expects the review to report in June or July.
The separate reviews are being conducted as part of the Conservative government's manifesto commitment to examine the broader aspects of the constitution and 'come up with proposals to restore trust in our institutions and in how our democracy operates'.
The government committed to setting up a 'constitution, democracy and rights commission' in its manifesto. However, Buckland said: 'Rather than having a Royal variety performance of a range of issues dealt with at one sitting, I concluded a series of focused reviews, of independent men and women, were the better way of dealing with some of the important and sensitive issues that we pledged in the manifesto to address.'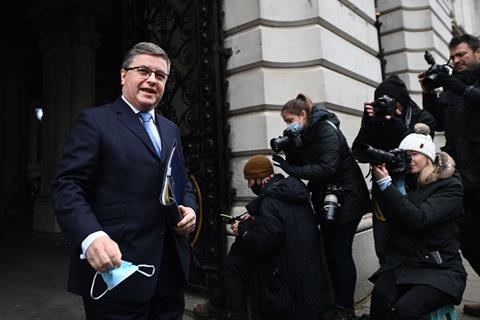 Other 'workstreams' will be announced 'in due course'.
During the session, in which the lord chancellor described himself as a 'constitutional plumber', he was asked whether there was a role for so-called 'Citizens' Assemblies' to address some of the bigger constitutional issues.
Describing the Citizens' Assembly as an 'interesting concept', Buckland said: 'It's not something I would entirely dismiss as impractical. It has potential. But we need to choose the subject matter very carefully. From my experience, there is greater natural public interest in an issue that might be much more close to home to people than something that would be perceived to be abstract.
'I'm just thinking about the way in which you engage the public. Or do you make it something like jury service where you summon people to take part in a process? I think we need to think very carefully about that.'
Buckland said the jury system has evolved over many generations.
'We all need to pause and think about how you engage the public. Being the product of a summons on a wet Wednesday night in November might not engender the sort of participation you would see spontaneously on an issue of major local importance that might have national implications. We have to go with the grain of the public rather than try and create another system imposed upon them that they might not necessarily take to in the way that well-intentioned proponents of the scheme would like,' he added.
Buckland was also asked about the Fixed-term Parliaments Act 2011 (Repeal) Bill, which will revive the prerogative power to dissolve parliament. The lord chancellor said he strongly supported the draft bill and believed the Fixed-term Parliaments Act was a 'short term fix that created a longer-term problem'.
He added: 'There has been much talk about so-called "ouster clause"'. The Parliament Act 1911 contains an ouster clause with relation to challenge of decision-making under the provisions of that act. The Fixed-term Parliaments Act itself had an ouster clause within it when it came to obtaining the speaker's certificate. I don't think anything in this act is unprecedented or is a departure from the norm.'