Gary Hickinbottom ran the defence of the UK's largest group action, acted for death row convicts and recently bowed out as the Court of Appeal's sole solicitor. He looks back on his career.
BIOG
Born - Walsall
Education - Queen Mary's Grammar School, Walsall, University College, Oxford
Roles - Admitted to the roll (1981), Partner, CMS Cameron McKenna (1986-2000), Recorder (1994-2000), Circuit judge (2000-2009), Deputy High Court judge (2001-2009), Designated civil judge for Wales (2005-2007), Deputy Senior President of Tribunals (2007-2009), Judge of the High Court of Justice, Queen's Bench Division (2009-2017), Queen's Bench Liaison Judge (2012-2016), Lord Justice of Appeal (2017-2021)
Known for - Appointed Chief Social Security Commissioner and Child Support Commissioner in 2003, Sole solicitor at the Court of Appeal
There is an obvious way to start an article about Court of Appeal judge Sir Gary Hickinbottom, who until retirement this year was the judiciary's most senior solicitor. But talking to him and looking back on previous interviews, a different beginning seems appropriate.
Instead, let us start with books. Photographed for a Gazette article in 2018, Hickinbottom appeared in his book-lined room at the Royal Courts of Justice. Posing by a ladder, and in shirt sleeves and tie, he is thoroughly at ease. Today, in a related vein, he is talking about his time at University College, Oxford, recalling 'the Bodleian Library, a fantastic facility, which was where I spent most of my life'. His backdrop for our call is one of stuffed bookshelves. We are speaking in a year when some of our political leaders appear unable to find enough books to fill a shelf behind them for TV interviews from home – on occasion settling for just a volume of Hansard.
With Hickinbottom, there are the books, his white shirt (no tie now) with a cardigan and, towards the end of the call, some unobtrusive sounds of easy domesticity in the background. He conveys a passion for academic, commercial and public law, the career he has had, and the intellectual challenge and professionalism he has encountered along the way.
University College, Hickinbottom notes, held and holds the chair in jurisprudence. 'We had HLA Hart, we had Ronald Dworkin, I mean, just quite incredible to think about that,' he recalls. 'We had… John Finnis, Martin Matthews, and Adrian Zuckerman who went on, really, to do the textbook on the theory and analysis of civil proceedings… I think we got three or four firsts in my year out of 10 or 12, something like that.'
And so we arrive at the true beginning: 'Oxford was just fantastic, it was just a fantastic opportunity.' His father, a baker with 'fewer O-levels than my mother' – a point of tension domestically – was nevertheless keen for his sons to become lawyers. Hickinbottom admits that 'in other circumstances, that would have been oppressive. But it was exactly the right thing for both him and me'. His brother is a district judge. They were the first in their family to enter higher education. In his second and third year at University College, his exam results earned him a scholarship.
'My first job was to go and sell the jewellery of a deceased client, all of which was paste. And then take the proceeds and buy a headstone'
One thing that seems to have aided his ascent through the judiciary has been a willingness to do things that his peers in the senior courts did not. By the time he graduated with a first, he had also spent many months outside term-time working for Smethwick solicitors Challinor & Roberts.
'My first job on my first day,' Hickinbottom recalls, 'was to go and sell the jewellery of a deceased client, all of which was paste. And then take the proceeds and buy a headstone… I didn't get enough money for the jewellery, so the firm simply put in the balance for the headstone. It was law on a very, very practical basis. And Oxford, of course, does law on a very theoretical basis.' Keeping him grounded while he read jurisprudence at Oxford, he recalls, was the fact that 'groups gravitate to their own. So I tended to mix most with people from vaguely similarly backgrounds'.
After the College of Law, he headed for McKenna & Co – a City firm that had moved west to offices above Drummonds Bank on Whitehall, having been bombed out of Gracechurch Street in the second world war. This was 1979, and the maximum number of partners per law firm had only just been raised from 20. At just under 30 partners, McKenna & Co 'was a pretty big London firm', he recalls. 'When I became a partner, I certainly knew all of the other partners, and we had lunch together every day.' Successor firm CMS has 1,100 partners worldwide in 71 cities – placing it in the global top-10.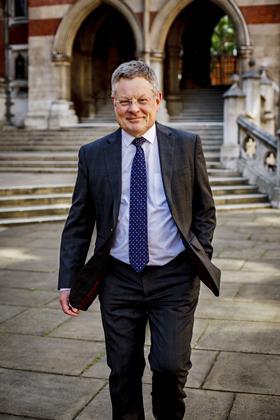 He relates the change that came as 'the Thatcher effect'. 'When I went there,' he recalls, 'the culture was very different from what it became in the 1980s… we didn't have time-sheets or anything like that. Everything was done on a far more subjective basis when I joined.'
With less pressure on time and targets came lower rewards. This meant that as an articled clerk the academically gifted Hickinbottom supplemented earnings with private tutor work and returning to Oxford to teach at weekends.
But if firms like McKenna & Co were smaller, the scale of cases and deals they handled were not. The benzodiazepine litigation was a 10-year case centring on a drug that, when used over time to treat anxiety and stress, had side-effects which it was alleged the manufacturers knew about.
It is the logistics of the case he recalls: 'I think we had 17,000, 18,000 writs. I mean, it was just colossal. And I really enjoyed doing that, we had a huge team working on it because there was so much work to do… one day I counted, there were something like 1,000 people on our side working on the case on that day. And the claimants had 3,500 firms of solicitors. Litigation on a grand scale.'
It was the largest-ever group action in the UK. The case failed, but the legal aid bill was around £40m. 'It was a really good thing to do, and in a professional sense, very happy times. But that did teach me that I never wanted to do it again,' he reflects.
The case was discontinued when legal aid funding was withdrawn across 1993 and 1994. And 1994 was the start of Hickinbottom's judicial career, initially balanced with his role at McKenna & Co.
Here, a willingness to 'muck in' surfaced again. His route to the appeal court included time spent as a parking and traffic adjudicator. He was a part-time recorder, then a recorder, leaving what was by then Cameron McKenna in 2000, when he became a circuit judge (he was senior circuit judge for Wales and Chester from 2003 to 2009). He had already taken on Caribbean death row cases pro bono (see box), and his string of overlapping judicial roles included 'Judge of the Supreme Court of the Falkland Islands', the Technology and Construction Court, and 'Judge of the Mercantile Court in Wales'. He was 'Deputy Senior President of Tribunals' and 'President, Administrative Appeals Chamber of the Upper Tribunal', reaching the High Court, Queen's Bench Division, in 2009. He was appointed to the Court of Appeal in 2017.
He values his time at each level, he says, noting the key skill for a parking adjudicator was 'to set out reasons in just a few sentences'. In a Crown court criminal trial, communication is key, he notes: 'Not just [for] the defendant but also, often, the victim, certainly the jury, counsel, the media.'
In the Crown court in Wales, he recalls the 2014 conspiracy to defraud case Evans, where he threw out the SFO's £160m case against five defendants. 'That was great as a lawyer, because the law of criminal conspiracy was almost a blank sheet of paper,' he says. 'So, I set out what I thought the law of conspiracy was and there were no appeals.'
Death row: christmas phone calls
From 1994, Gary Hickinbottom acted on Caribbean death row appeal cases, some of which came to the Privy Council. Its decisions ultimately allowed or prevented the execution of prisoners. He became a Privy Council agent, an opportunity to make sure, in delivering documents to the council, that 'nothing had been missed'. To do so, he could also instruct counsel (acting pro bono). One of whom was Heather Hallett.
'Many of [these men] were guilty of terrible crimes but they each had a tale to tell. And I thought it was more than worthwhile to give them proper representation; and secondly, once your name was known in Fox Hill Prison, which is where death row prisoners are kept in the Bahamas, prisoners wrote to me directly… I suppose 10 or 12 death row prisoners I acted for over the next few years.
'The outcomes were mixed. We lost, I think, the last three cases that went to the council on constitutional motions,' he recalls. A subsequent case, not one of Hickinbottom's, established that excessive time on death row was itself a cruel and inhuman punishment. 'Too late for my boys,' he says. 'It's certainly a salutary event when the local agent rings you up between Christmas and New Year… and says that they've just executed your chap.'
In the Administrative Court, where parties are typically represented, he relishes the way 'arguments and the submissions are really pressed and the answers you get from both sides, or all sides, sometimes… It doesn't make the judge's decision any easier because the submissions are so good on both sides, but it's a tremendously fulfilling thing'.
Sitting in the divisional court with David Holgate, Hickinbottom heard judicial review claims on Heathrow's third runway – a highlight, he says: 'I enjoyed the Heathrow case because there was a lot of law in it… And I thought that we had to get the judgment out quickly, because quite a lot was turning on it economically.'
His key experience as a judge is of public law, and especially of human rights law; experience which has been under-represented in the higher courts. 'In some of the very, very early cases under the Human Rights Act in the House of Lords, I think the direction that was taken was not right. It was far too interventionist.' The challenge of retaining a 'balance to a very high threshold' is ongoing, he notes.
'I hope that, post-Covid, live oral hearings will still take place in all of those cases which would really benefit from them'
Much has been made of the move to a more transparent system of judicial appointments. Hickinbottom's judicial career spans both the 'tap on the shoulder' and the more transparent system of open applications. He says he has been 'very happy to be elevated from time to time on the basis of, effectively, my judgments, my abilities as a lawyer', but thinks some qualities should be given more weight.
'Juridical management, and particularly judicial leadership, are matters to which more weight should be given in the process. And more solicitors, I think, would be elevated [then], because solicitors, because of their experience, [are more likely to] make better managers and better judicial leaders. I think there's a pool there that's not being properly used yet,' he reflects.
On appointments, he notes, 'when I became a High Court judge, I think I probably had more experience in judicial management and leadership than any other judge. I'd been the president of several tribunals, Deputy Senior President of Tribunals and in charge of civil justice in Wales on the ground as a [designated civil judge]'. As a result, he admits: 'I'm certainly disappointed that I did not go on from there to one of the judicial leadership posts.'
On retirement from the judiciary, Hickinbottom will not be tending to his roses. He is sole commissioner for the British Virgin Islands' commission of inquiry, which will review the territory's governance and make recommendations – a job he was attracted to by its 'public interest' purpose. This is what he will look for in other roles.
He leaves the judiciary at a point when the Covid-19 pandemic has forced many hearings online, in the wake of the damage wrought by a decade of austerity. How does he see this period? 'It's far more difficult to interrupt an advocate remotely,' he reflects. 'And so it becomes more a monologue of oral submissions and less of a debate, and a debate on the law is the best way, I think, of teasing out difficult issues and difficult arguments.'
He concludes: 'As we go forward these are, I think, my two biggest concerns. One is to have adequate representation where required. And second, I hope that post-Covid, when we have a chance of getting back to normality in terms of oral hearings, that live oral hearings will still take place in all of those cases which would really benefit from them.