Dana Denis-Smith might have married a 'local boy' in her native Romania and got a job in a factory, or perhaps become a scientist or a doctor. She could have carried on as an Economist Group journalist, with a specialism in the Balkans and various former Soviet republics. Or she might still have been running the political and economic risk consultancy she founded. Or perhaps she might have remained an employment lawyer, practising at Linklaters where she trained.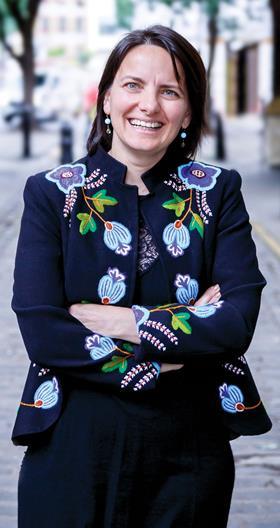 BIOG
BORN - Romania
EDUCATION
London School of Economics, BSc and MSc (1997-2000)
BPP law school (2001-2004)
Indian Institute of Management, Ahmedabad (2010)
ROLES
Analyst, Economist Intelligence Unit (2001-2002)
Solicitor, Linklaters (2005-2007)
Director, owner, Marker Global (2007-2011)
CEO and founder, Obelisk Support
KNOWN FOR
LexisNexis Legal Personality of the Year (2018)
Founder, First Hundred Years (2014)
Instead, she is heading the legal services company she founded, Obelisk Support, which (another 'what if?') might not have won Goldman Sachs as an early client had her barrister husband not rushed home from chambers to look after their two-month-old daughter while Denis-Smith went to meet the investment bank. A diary error meant her childminder was two hours away instead of poised to take over.
Indeed, although her work celebrating women in the law and building her business has earned her many plaudits, any conversation with Denis-Smith has these 'what ifs' hovering in the air around it.
'I grew up under communism in Romania,' she begins. 'So I never contemplated law as a career.' Law, she says, had 'an association with the communist regime', as it was 'part of the system'. But later on, as a journalist, Denis-Smith took an interest in the legal magazines her lawyer husband was receiving and reading.
Her interest piqued, in spring 2001 she told her husband: 'I think I'll go for a professional qualification. I'll go and train in a magic circle law firm.'
'Obviously, I didn't have a training contract,' she notes, 'but I was quite clear that I would start from the top and make my way down the list if I needed to. His first reaction was that it was a crazy idea and I could do many other things rather than become a solicitor, but I didn't listen.'
"Everybody knows culture is broken in law firms… either they shrink, as partnerships, or they've got to change… to become attractive again"
Reluctant to give up a job at the Economist Group while she studied, she did the GDL at BPP law school part-time over two years and secured a training contract at Linklaters. She qualified in the employment law practice in 2007.
During her time as a trainee she worked for the Free Representation Unit. This showed her the enormous difference representation made for a litigant, and a commitment to an age-discrimination case outlasted her time at Linklaters. 'It was at the beginning of these cases coming to court, so there wasn't much case law and we knew it was a hard one to prove,' she says, 'especially when there was some kind of disability element.'
After leaving Linklaters Denis-Smith set up a political risk consultancy. The market hazards given full illustration by the collapse of Lehman cast a long shadow, she recalls. That, combined with investor interest in the high growth 'BRIC' economies (Brazil, Russia, India, China) made it a good time to set up a political risk consultancy. Her business used 55 people located across emerging markets. 'I had this model where we were not allowed to write more than five pages of analysis, and the last one was a table of economics,' she recalls. 'It was pretty tight to get it done, but it was a nice model.'
But why quit legal practice after the effort of qualifying? 'I just didn't feel it was what I wanted to do all the time,' she reflects, 'plus I'd figured out the partnership model would definitely take me 20 years. I was thinking, finally, my husband was right. If you want to make money there are faster routes to that. If you want intellectual stimulation, there's other ways as well.'
"I just thought of marrying the attrition of women [in the legal profession] to outsourcing, because I felt there was enough demand in the market"
She wanted to expand and went to India on a 'mini MBA'. Her idea was to find ways to fill the void of good economic data for investors in India. Instead, she says: 'To my amazement I discovered this whole land of outsourcing of legal work. I was quite surprised by how they're run and how people are packed in such small spaces. It was just really like a battery chicken farm and it was quite depressing.'
This led to a 'lightbulb moment': 'I thought, hold on a second, if there's so much work to be sent and it needs to be sent abroad is there no better way to leverage productivity?.' She took a week off her studies to go to the Himalayas: 'I always get crazy ideas up there… I just thought of marrying the attrition of women [in the legal profession] to outsourcing, because I felt there was enough demand in the market… I thought, well, is there another way to produce something that is higher quality than just sending it to these very cramped rooms in India?'
It emerged as a 'B2B' solution that could be pitched to general counsel. As an entrepreneur, Denis-Smith saw an advantage in this model over her consultancy which was 'very restrictive of growth, because everybody wanted my expertise… I was looking for an idea where I wasn't the expert in the business'.
This was still a leap of faith though. Excited, she commissioned a report to test the idea – and feedback was highly negative. Potential clients had concerns about, among other things, security and confidentiality in the proposed setup.
That struck her as being at odds with corporate outsourcing patterns; important work was already being sent to outsourcing centres in other jurisdictions. 'I took it that it was a temporary negative as opposed to a permanent negative response,' she recalls. There followed a period she describes as 'crazy'. It took in the birth of her daughter, the launch of the new business Obelisk Support and the orderly running down of the political risk consultancy.
'I was quite clear that Obelisk would be my central focus and that it wasn't just the right idea at the right time, but it was the right thing to do,' she says. 'I had this very strong sense of justice around why it needed to happen and why it needed to succeed.'
Under the model she set up, Obelisk lawyers are freelance lawyers fulfilling a contract between Obelisk and the client. But how to start? She called the Women Lawyers Division at the Law Society. 'Has anybody called you saying that they want to do some work?' she asked. Four women who were trying to return to work, and had been in regular touch with the Law Society, were suggested. 'They had amazing CVs… exactly what I had in mind,' she recalls.
"The partnership model would take 20 years. If you want to make money there are faster routes to that. If you want intellectual stimulation, there's other ways as well"
Four lawyers were a start, but clearly not enough. Denis-Smith hit the road: 'I used to go around the country to meet different groups locally and have tea parties, and they would say, "Nobody wants our skills. We're just mums. Everybody thinks that our brains have washed away from our heads." It was very sad actually to hear them talk so negatively about their skills, and when I would look at their CVs I was like, "Well you're an Oxford graduate, you trained at one of the top firms. Why wouldn't you be able to work? How many hours do you have?".'
In June this year, when then-lord chancellor David Gauke told the Law Society's international symposium on women in leadership in law that equality could ultimately deliver a £150bn boost to the economy, the estimate surely included sections of the economy such as this. Compared to offshoring, Denis-Smith notes, 'the quality is much better, and the culture affinity is there' because of the type of lawyers being used. 'They have served this kind of client before, so they can just switch on much quicker, with trust from whoever wants to work with them.'
Obelisk went from four to 15 lawyers on its books, but an early meeting with RBS underlined that much more scale was needed. 'I can't do anything with it. I need much more power than that,' the in-house lawyer she met told her. 'That's basically when I started ramping up my tea parties and advertising more and trying to build a team around me,' she recalls. Goldman Sachs was an excellent early win, and, requiring six lawyers, was within scale.
Through this, with a young child, she says: 'In the day I'd be a mother, and then at night-time I'd be an entrepreneur.' As for sleep, 'the sleep was just not there, but it's not there anyway so you might as well ride the non-sleep curve forever'. She does though refer to this period as 'a blur'.
Obelisk reached 500 lawyers on its books in 2014, at which point the business hit a temporary size barrier. 'We didn't have technology in the business,' Denis-Smith explains. To date the business had been based on 'basically a very complex spreadsheet'. Now, at this new size, 'it was impossible to find anybody anymore'. 'I realised that we needed to think about how to build a platform where we could find and mine this information,' she adds. 'A year later we started building the technology platform that we have now, which is a matchmaking system.' It is that new platform that has taken it to the current figure of 1,700 freelance lawyers.
Those lawyers are drawn from a 'defined pool' of applications – Obelisk is looking for lawyers who have had exposure to clients similar to its own. That might include time in-house at a FTSE 100 company or two years at a top-30 law firm. The recruitment team carry out KYC (know your customer) checks, at which point the freelance lawyer is 'ready to go'.
Or ready, perhaps, not to go anywhere. Denis-Smith estimates 90% of Obelisk lawyers either work entirely or partly from home, and around 20% are working outside the UK.
100 years of women in law
Dana Denis-Smith set up the First Hundred Years project to chart the journey of women in law since 1919. 'There is no archive like the first 100 years to help us place ourselves in history,' she notes. Supported by the Law Society, Bar Council and CILEx, the project has created a 'digital museum' of biographies, video interviews, podcasts and photographs – content spanning the period since the Sex Disqualification (Removal) Act 1919. Of the early solicitors, Denis-Smith observes: 'A lot of them were entrepreneurs. They co-founded businesses with their husbands or fathers.'
As the centenary approaches, the project is looking forward to the next 100 years . For one project the Turner Prize-nominated artist Catherine Yass has been commissioned to create an artwork for the Supreme Court. Individuals and businesses are invited to donate £100 in the name of a young girl or woman (up to the age of 30) who they want to inspire to enter the legal profession. Each name put forward will then have their name and age displayed on a permanent donor wall at the Supreme Court.
The profile of Obelisk lawyers, she reflects, is changing. The core remains women with families – the 'parent group' who have time to do legal work, but not to focus on the necessary 'business development' to bring that work in, or to chase payment for their work. But there are also younger lawyers pursuing ambitions like travel, people managing other 'life transitions' and older male lawyers looking to build a 'portfolio' career.
Her business sits, Denis-Smith argues, in a landscape that has changed. In one sense, the things that are wrong with commercial law firm culture create the space for a business like hers. It is a reality identified in a white paper she commissioned Back to the Future: Reshaping Law Firm Culture. The recent rise in newly qualified salaries across the City, she argues, shows law firms are having to 'bribe' able people to work in a dysfunctional environment. 'Everybody knows culture is broken in law firms,' she says. Ultimately, 'either they shrink, as partnerships, or they've got to change… to become attractive again'. She includes the profession's poor record on sexual harassment on a list of ways law firm culture falls short. The hierarchy, the hours, a 'military regime style of ruling a firm', and the lack of control people have over their working life adds up to 'a culture of fear to some degree'.
Yet there are Obelisk alumnae who return to the rewards of that environment – even joining firms as partners – having used their time as a freelance lawyers as their route back to practice.
In December the legal profession marks 100 years since the Sex Disqualification (Removal) Act opened the legal profession to women, and a series of landmark centenaries follow over the next few years. Denis-Smith set up the First 100 Years project (see box) which has been the public focal point of the celebrations.
One word is absent from many of the celebrations and reflections around the centenary. As someone deeply involved in the centenary, and who runs a business that is largely based on finding opportunities for women to practise which the rest of the profession had missed, does she not think the words 'feminist' and 'feminism' should be more prominent?
She says that with a 'conservative upbringing' feminism 'just didn't exist in my bubble'. 'I think it's a divisive word,' she adds, while noting that when asked about a book that influenced them, the woman judges in the Supreme Court all cited a feminist text. 'I'm obviously a kind of feminist campaigner, she concludes. 'But I don't think labelling myself does anything to me.'